Expanding Fintech Client - Recruitment Process Outsourcing (RPO)
10 Nov, 2023
The Client Our client is one of the world's largest payments and financial technol...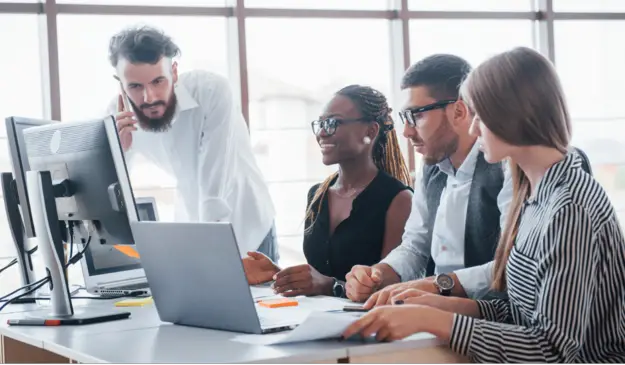 Our client is one of the world's largest payments and financial technology providers. This American multinational Fortune 500 company provides financial technology services to clients across the financial services sector, including: banks, thrifts, credit unions, securities broker dealers, mortgage, insurance, leasing and finance companies, and retailers. They are a leader in the Fintech sector and one of the most admired financial services companies in the world.
Cpl's Talent Evolution Group has been successfully delivering our end-to-end Recruitment Process Outsourcing (RPO) service to this fintech client for over 4 years. Over the last 4 years the Talent Evolution Group team have placed over 370 technical and highly skilled fintech professionals across data analytics, software engineering & software architecture, technology operations, project management office (PMO), and mobile.
In 2016, the company, which already employed 300 workers in two separate facilities in Dublin, was looking to expand to a new facility. This would be the company's first Irish location outside of Dublin. Their plan was to have research and development teams based here working on an array of projects in the digital commerce arena.
At the new research and development centre, core areas of focus would include:
Data Analytics

Machine Learning & Artificial Intelligence (AI)

Intelligent Infrastructure
The client needed to scale-up the new facility quickly by taking on a wide array of highly skilled, in-demand talent. This level of growth would have put unnecessary stress on their internal Human Resources (HR) function. Therefore, they turned to Cpl's Talent Evolution Group as the partner of choice to identify, source and attract key talent to work in the new digital research and development operation.
Cpl's Talent Evolution Group built an RPO team and a sustainable model that has been able to consistently deliver on the client's talent needs across complex roles in an extremely competitive market in a location that has never hired this type of talent profile.
Over the last few years, the client's needs and talent requirements have changed. As with any organisation, they have experienced hiring freezes and projects which have gone on hold at short notice. The ever-changing requirements have created uncertainty and given rise to unique talent acquisition challenges
As a partner, Cpl's Talent Evolution Group understands these impacts and have built our model to be flexible and to scale up or down to meet these demands.
Cpl's Talent Evolution Group team utilises a unique RPO elements process. The Talent Evolution Group provides a full range of RPO services which are broken down into these RPO elements. By analysing the brief, having in-depth discussions with the client to understand their goals, and applying vast industry knowledge, the Talent Evolution Group team can offer up a program tailored specifically to meet the client's needs. This approach meets client expectations and allows Cpl's Talent Evolution Group to utilise several aspects of each type of RPO offering. For this case, the Talent Evolution Group team proposed applying the following elements to help the client reach their hiring goals:
Programme management

Talent acquisition

Localised sourcing strategy

Talent brand amplification
Recruitment co-ordination

Reporting and insights

Market entry advisory

Candidate experience

DEI
International sourcing strategy

Recruitment marketing

Employee value proposition/People value proposition
Cpl's Talent Evolution Group has continuously transformed our RPO programme to support the client's talent needs. These transformations have included creation of a dedicated specialist delivery team, scalable strategic sourcing channels and technology enhancements to support recruitment, sourcing, and talent tracking. Since the implementation of our dedicated sourcing team, Cpl's Talent Evolution Group has ramped up to deliver over 95% of all of the client's technical needs year on year. This ramp has been enabled by the dedicated teams focusing on continually evolving our strategic sourcing, talent mapping, and talent pool creation.
To meet niche skillsets and volume hiring projects, we also manage a preferred supplier list (PSL) of 5 third-party agency vendors. This list is comprised of client recommended agencies and Cpl-sourced agency partners. Our team utilises a proven and meticulous screening and compliance process to identify and onboard suitable third-party suppliers. We also have a rigorous vetting and onboarding process for suppliers. This process is done in person and supported through our compliance system. This process can be audited at any time to provide a fully transparent supplier network that the client can trust. To ensure the best delivery, we continually engage with our third-party agencies, and track performance through Service Level Agreement (SLA) reporting and management.
This approach has seen us meet 100% of the client's talent needs through direct sourcing and the management of our third-party vendor supply chain. Over the last 4 years we have placed over 370 technical and highly skilled digital professionals across data analytics, software engineering & architecture, technological operations and mobile.
Our key to success with this fintech client involves our teams understanding of both the cultural and technical 'fit' of the target candidate. We only submit the most qualified candidates for roles, even if these candidates are from our partner vendors versus ourselves. Our only aim is to fill the role with the most appropriate candidate.
What the Talent Evolution Group model delivers:
Cpl's Talent Evolution Group have built and sourced a technical talent pool of over 13,000 candidates

Over 370 placements across technology and data analytics roles

95% plus direct fill rate via Cpl's Talent Evolution Group

Thir Party Vendor Management
Interview to Hire Ratio of 2:1
A further evolution has seen the implementation of a Strategic Account Manager programme that acts as the voice of the customer internally in Cpl's Talent Evolution Group and leverages off our Business Process Excellence and Future of Work teams to bring innovation and promote customer and employee experience.
A key feature of this development has been the evolution of market intelligence and a suite of reporting. These components have been developed by our team's data and reporting analysts utilising Power Business Intelligence (BI) to bring together data from the multiple IT systems that we use to support all elements of the RPO programme.