The truth behind talent retention and the importance of healthy management
30 Oct, 2023
7 minutes
When an employee leaves an organisation, they take valuable insights with them. Employers ...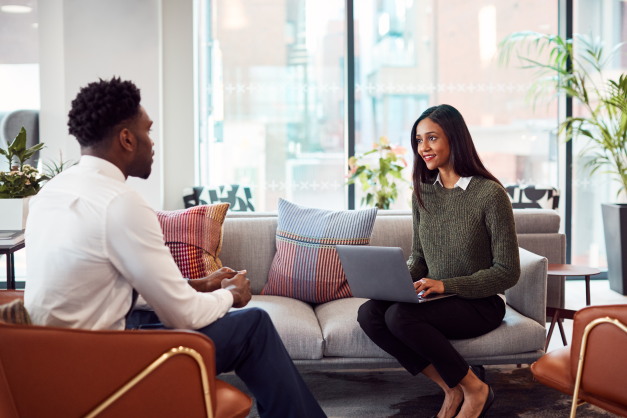 When an employee leaves an organisation, they take valuable insights with them. Employers that fail to capture this feedback are losing out on the opportunity to drive meaningful change and champion healthy management.
Understanding why people are choosing to resign can help to identify how working practices and cultures can be improved for existing staff and, in doing so, increase the chances of retaining talent – but how often are these voices being heard?
Cpl's Talent Evolution Group has surveyed 1,500 UK employees, who have resigned from a role within the last five years, to understand why people are leaving their roles and how they give feedback about their decision.
Over half of UK employees (55%) are not being invited to formal exit interviews.
38.2% were not asked to provide feedback when resigning from their last job.
What is causing people to resign?
Ineffective or toxic line management is an influential factor for employees leaving an organisation – it was named by more than a third of respondents (34%) as a reason to resign. Issues around negative culture and work environment garnered similar results. Practical issues like commuting (16.6%) and office facilities (8.9%) were much lower priority.
| | |
| --- | --- |
| Reasons to leave (excluding pay) | Percentage |
| Ineffective or toxic line management | 34.5% |
| Lack of recognition | 32.2% |
| Negative company culture | 28.2% |
| Toxic working environment | 27.7% |
| Poor job security | 26.2% |
| Poor relationship with manager/management | 22.1% |
| Poor colleague relationships | 21.7% |
Employees want to talk
Despite 55% of UK employees not being invited to formal exit interviews and 38.2% not being asked to provide feedback when resigning, the survey found that the majority would be happy to discuss a diverse range of topics in an exit interview.
Almost three-quarters of respondents were happy to share their opinions on salary (73.3%), company culture (72.3%) and impact on mental health (72.3%), with topics like the perception of company's brand (67.5%) also ranking highly.
With these important topics firmly on the table, why are so many employers failing to have these conversations?
| | |
| --- | --- |
| Topic | % happy to discuss in exit interviews |
| Salary | 73.3% |
| Company culture | 72.3% |
| Mental health implications of the role | 72.3% |
| Benefits | 70.6% |
| Training opportunities | 70.1% |
| Line managers | 70.1% |
| Colleagues and peers | 69.6% |
| Workplace facilities | 68.8% |
| The work itself | 67.9% |
| The company brand itself, and how it might be perceived by others | 67.5% |
| Owners/MD/C-Suite | 66.7% |
| Work-life balance | 66.1% |
| Diversity, equity and inclusivity (DEI) efforts | 64.9% |
| Clients and customers | 59.1% |
Do employers want to listen?
It's clear that employees are willing to share their insights, although exit interviews are not always seen as the most appropriate way to vent their frustrations.
34.5% felt ineffective or toxic line management was a key influential factor for leaving. This aligns with 29.9% of UK employees who were uncomfortable sharing negative feedback on their line managers in a formal exit interview or survey.
Without direct opportunities to discuss their reasons for leaving a role, employees are likely to find third-party sites, such as Glassdoor, where they can leave reviews publicly. 69% choose to review their previous employers online, with 50.6% leaving negative feedback.
Áine Fanning, Managing Director Talent Evolution Group said: "These findings suggest that, not only is poor leadership and poor culture a significant factor behind up to a third of resignations, but the people who are leaving for these reasons are not comfortable providing the feedback required to highlight such a significant issue – leaving employers unaware and allowing negative cultures to remain in place."
What can employers do?
To make an organisation an attractive opportunity for new talent and an environment where all employees can thrive, it is key to understand and address the needs and concerns of the existing group. Decreasing retention levels could indicate a persistent issue that requires addressing. But without consistently providing opportunities for feedback, the issues will be difficult to identify and resolve.
A more personal approach is required – one that provides a strong value proposition for both new and existing talent and has a genuine focus on the wellbeing of individuals. Creating an environment where they will feel both valued and supported will encourage the growth of open and honest dialogue around the positives and negatives of their experience with the organisation.
Our whitepaper, "Catching the Next Wave of Talent Innovation," identifies insights and practical strategies to help organisations attract new talent, but what about your existing workforce? Here are some tips to consider.
Implement exit interviews for all leaving employees
Not enough exit interviews are being held – just 45.5% of UK employees are asked to attend one. Without a formal time and place for leavers to share their insights, issues that resulted in their resignation cannot be addressed and will remain unresolved. Employers will not take action to resolve the issues because they remain unaware and the problem will persist, potentially impacting performance, job satisfaction and retention rates.
Resolving this lack of dialogue is vital. 50.1% of our respondents would have considered a counteroffer during the exit process. But with poor communication about the reasons for leaving, talent that could be retained is being needlessly lost.
With this counteroffer consideration during the exit process in mind, it also poses the question of the timing of said exit interviews. In many cases, exit interviews prove fruitless since the employee has already made the decision to leave. Asking for feedback when employees are on the way out the door is often far too late. When tackling an attrition problem, taking a preventative approach is imperative.
"Rather than waiting to have these conversations when people are on their way out, why not have these conversations on a monthly or quarterly basis?," suggests Elysia Hegarty, Associate Director, Future of Work Institute. "Add these questions to your regular one-on-ones and forge a path to open doors for ongoing communication. This is what I call regular 'Employee Happiness Interviews.' Rather than asking why an employee is leaving, ask questions to find out what really makes them tick. What motivates them and what irks them? As managers, we need to create a safe space to give and receive this feedback. It's not always going to be nice and we don't always get it right, but we certainly need to ask."
Adapt management and policies for differences
Effective management requires the understanding of employees as individuals, whose experiences in the workplace are impacted by their age, gender, race, sexual orientation, ability, age, religion, culture, and socioeconomic status.
For example, in the context of multi-generational needs, our research demonstrated the following findings:
Gen X are more likely to provide negative feedback on their line managers in exit interviews than Gen Z.
Gen Z respondents (39%) were most likely to say that, excluding pay, 'Ineffective or toxic line management' was the top reason to resign.
While generally less forthcoming, Gen Z are more likely to raise issues impacting their mental health than those 45 and over.
Under 45s are more concerned about the repercussions of giving honest, negative feedback.
Different generations have varying expectations of their workplace and management and it's important to make sure these varying approaches are considered fairly. A good example of this is flexibility of working environments, allowing those who prefer an office workspace access, while giving those with work-life balance or childcare concerns the ability to be more flexible.
This should also be a consideration for those with disabilities who struggle to travel to and from an office. Some neurodivergent employees have preferences to work from home rather than the office as it limits distraction. Others much prefer to be in the office to meet their colleagues and fill the loneliness void. But we need to ask the question "how and where do you do your best work?," rather than make assumptions.
Care should be taken to not allow these adjustments to be based on stereotypes. Providing line managers with formal training to have these conversations, ask the right questions, and respond with empathy is as important as providing training to conduct effective supervision in a hybrid working world. Promoting a culture of openness and honesty from senior leadership and consulting on policies with employees can ensure that everyone has a voice and a regular opportunity to discuss issues with management.
| | | | |
| --- | --- | --- | --- |
| Issue | Gen X (45-54) | Millennials (25-44) | Gen Z (18-24) |
| When leaving an organisation, would you be prepared to give negative feedback on your line manager the employer? | 73.3% | 71.1% | 63.4% |
| Ineffective or toxic line management is the most influential reason for considering handing in your notice (excluding pay) | 39% | 34.9% | 27.9% |
| When leaving an organisation, would you be prepared to give negative feedback on the impact on your personal mental health to the employer? | 67.1% | 73.2% | 73.2% |
| I would be concerned about potential future repercussions e.g., receiving a bad reference, if I offered honest feedback. | 26.2% | 32.1% | 33.1% |
Resolve unconscious discrimination
In the workplace we need to be more aware of our own biases as leaders. We have seen this spoken about many times in the context of gender.
The main reasons people would consider resigning were split quite evenly across genders. However, this should not be seen as a reason to exclude the application of diversity, equity and inclusion best practices – distinctions between genders remain.
Generally, issues of environment and relationships are of greater concern to female staff, while male issues are around individual performance and resources:
'Ineffective or toxic line management' (37%) and 'Toxic working environment' (32.3%) were the most common responses from female employees – both are of higher concern for female staff than male.
Examples where male staff had a higher percentage than female include 'Lack of recognition' (34.4%) and 'Poor job security' (28.9%).
Most alarming is that 51% of male staff were offered a formal exit interview. In comparison, just 39.4% of female employees surveyed were provided this opportunity.
While we know that gender discrimination is prominent, so too is discrimination across many other minority groups. We as leaders and as organisations need to constantly question our biases to truly embrace equality and remove all forms of discrimination.
Measures to ensure equality must be practically implemented to ensure that all staff are treated fairly. Examples include unconscious gender bias training, mentoring programmes, leadership training, and other DEI initiatives.
| | | | |
| --- | --- | --- | --- |
| Most influential reasons for considering resignation | Male | Female | Difference (%) |
| Toxic working environment | 23.7% | 32.2% | +8.5 (F) |
| Poor job security | 28.9% | 23.3% | +5.6 (M) |
| Ineffective or toxic line management | 32.4% | 37.0% | +4.6 (F) |
| Lack of recognition | 34.4% | 29.9% | +4.5 (M) |
| Poor colleague relationships | 19.7% | 24.1% | +4.4 (F) |
| Office conditions (e.g. lack of facilities, old-fashioned equipment) | 10.8% | 6.8% | +4 (M) |
| Lack of career progression opportunities | 17.3% | 21.0% | +3.7 (F) |
The importance of healthy management
Talent retention is a broad area to appraise, with countless facets and considerations. But a through-line identified in our survey data is that effective and healthy management has a serious impact on retention.
Respondents ranked getting a promotion (52.1%), changes to line management (46.2%), and hybrid working options (46%), as the top reasons to withdraw a resignation.
While a change in manager may be relevant in extreme circumstances, when all other options have been considered, the true answer lies in upskilling and supporting our managers to lead effectively.
In an ever changing working world, leavers have had to adjust to working through a pandemic, embrace new ways of working, lead teams in geographically dispersed locations, and manage multiple cultures. Never has it been more important to upskill and support our leaders.
According to Elysia Hegarty from our Future of Work Institute, "many organisations that are struggling with retention issues are not training their managers efficiently to lead in a hybrid, multi-cultural way. If organisations truly want to tackle the attrition issue, we need to start by helping managers lead at a distance, support them to have open conversations, encourage inclusivity, and help them create employee experiences that make it really hard to leave."
Find out more about the Future of Work and then contact us to discover how Cpl's Talent Evolution Group customisable Talent solutions can meet your organisation's bespoke needs.